10 best shows like Borodach (2016)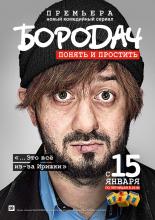 The endless change of jobs, the incredible and insane situations in which the hero finds himself, the constant drives to the police and the amazing charm of the comedy character of the show "Our Russia" Alexander Borodach.
List of the best shows and series like Borodach (2016): Zhuki, 257 Reasons to Live, Crisis of tender age, The Last Minister, #СеняФедя, The '90-s. Funny and Loud, Poor people, Ivanko, Psychologenies, Вечный отпуск.