10 best movies like Zodiac (2007)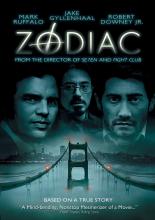 The true story of the investigation of the "Zodiac Killer", a serial killer who terrified the San Francisco Bay Area, taunting police with his ciphers and letters. The case becomes an obsession for four men as their lives and careers are built and destroyed by the endless trail of clues.
---
List of the best movies like Zodiac (2007): Secret in Their Eyes, Disturbia, Child 44, Dark Places, Resurrection, The Weight of Water, I Wake Up Screaming, The Boston Strangler, Palmetto, A Walk Among the Tombstones.
Tags: movies similar to Zodiac (2007) - full list