10 best shows like The Secret Circle (2011)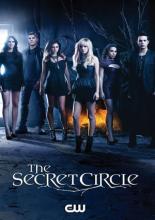 After her mother dies in a fire, Cassie Blake moves in with her grandmother in the beautiful small town of Chance Harbor, Washington. As Cassie gets to know her high school classmates, including sweet-natured Diana and her boyfriend Adam, brooding loner Nick, mean-girl Faye and her sidekick Melissa, strange and frightening things begin to happen.  They are all descended from powerful witches, and they've been waiting for Cassie to join them and complete a new generation of the Secret Circle. What Cassie and the others don't yet know is that darker powers are at play, powers that might be linked to the adults in the town - and that Cassie's mother's death might not have been an accident.
List of the best shows and series like The Secret Circle (2011): Teen Wolf, Witches of East End, Being Human, Salem, The Originals, Supernatural, The Nine Lives of Chloe King, Locke & Key, Pretty Little Liars, WandaVision.