10 best shows like The Day After (2013)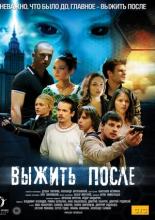 A drug company, attempting to create a perfect human race, releases a virus which proves to be deadly. People are dying by the thousands, but eleven strangers, who wake up in a bunker with no memory of how they got there, find themselves responsible for determining the future of all mankind.
---
List of the best shows and series like The Day After (2013): Siberia, Helix, The Big Game, Топи, Dead Mountain: The Dyatlov Pass Incident, The Rain, 12 Monkeys, The Stand, Between, Пищеблок.