10 Best Animation movies like Scooby-Doo! Moon Monster Madness (2015)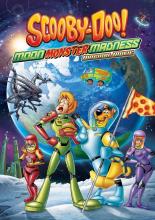 It's one giant step for dog-kind as Scooby-Doo and the Gang blast off for an epic, other-worldly adventure in this all-new original movie! After winning the last 5 seats in a lottery, Scooby-Doo, Shaggy, Fred, Daphne and Velma are off to space in billionaire Sly Baron's brand new ship, the Sly Star One. It's all gravity-free fun until a mysterious alien begins destroying the ship! As the ship breaks down, the crew is forced to land on Sly Baron's base... on the dark side of the moon! Will the gang unravel this alien mystery? Will Scooby-Doo and Shaggy find snacks on the moon? Will Fred ever take his space helmet off?! Journey to the outer limits with Scooby-Doo to find out!
List of the best animation movies like Scooby-Doo! Moon Monster Madness (2015): Toy Story 4, Soul, Scooby-Doo! and Kiss: Rock and Roll Mystery, Scooby-Doo! Stage Fright, Scooby-Doo! Frankencreepy, Steven Universe: The Movie, Lego Scooby-Doo!: Haunted Hollywood, Scooby-Doo! and the Gourmet Ghost, Leroy & Stitch, Chicken Little.
Tags: movies similar to Scooby-Doo! Moon Monster Madness (2015) - full list