10 Best Animation movies like Planet 51 (2009)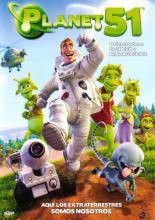 When Earth astronaut Capt. Chuck Baker arrives on Planet 51 -- a world reminiscent of American suburbia circa 1950 -- he tries to avoid capture, recover his spaceship and make it home safely, all with the help of an empathetic little green being.
List of the best animation movies like Planet 51 (2009): Soul, Escape from Planet Earth, Leroy & Stitch, Teen Titans Go! vs. Teen Titans, Capture the Flag, Steven Universe: The Movie, Space Chimps 2: Zartog Strikes Back, Playmobil: The Movie, Scooby-Doo! Moon Monster Madness, Chicken Little.
Tags: movies similar to Planet 51 (2009) - full list