10 Best Animation movies like Bolt (2008)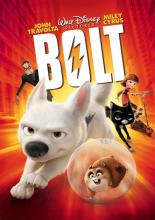 Bolt is the star of the biggest show in Hollywood. The only problem is, he thinks it's real. After he's accidentally shipped to New York City and separated from Penny, his beloved co-star and owner, Bolt must harness all his "super powers" to find a way home.
List of the best animation movies like Bolt (2008): Up, Soul, Moana, Finding Dory, Madagascar 3: Europe's Most Wanted, Oliver & Company, The Good Dinosaur, Lady and the Tramp II: Scamp's Adventure, Feast, The Smurfs: The Legend of Smurfy Hollow.
Tags: movies similar to Bolt (2008) - full list