10 best movies like Rocky (1976)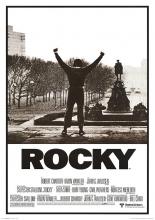 When world heavyweight boxing champion, Apollo Creed wants to give an unknown fighter a shot at the title as a publicity stunt, his handlers choose palooka Rocky Balboa, an uneducated collector for a Philadelphia loan shark. Rocky teams up with trainer Mickey Goldmill to make the most of this once in a lifetime break.
List of the best movies like Rocky (1976): Sultan, Pailwaan, Stronger Than The World: The Story of José Aldo, Pelé: Birth of a Legend, Mary Kom, Gladiator, Cinderella Man, Champion, Pitch, From the Rough.
Tags: movies similar to Rocky (1976) - full list