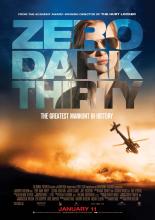 Zero Dark Thirty (movie, 2012)
Zero Dark Thirty
A chronicle of the decade-long hunt for al-Qaeda terrorist leader Osama bin Laden after the September 2001 attacks, and his death at the hands of the Navy S.
The 1 best video reviews about Zero Dark Thirty (2012)
We've put together 1 video reviews, opinions and reactions to the Zero Dark Thirty (2012) movie. You can watch and evaluate each of them. Caution, spoilers may be present in some reviews. If you are a video blogger and want to add or remove videos from this page, write to us.
Zero Dark Thirty - Movie Review