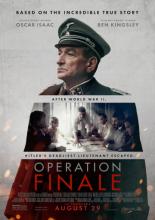 Operation Finale (movie, 2018)
Operation Finale
In 1960, a team of Israeli secret agents is deployed to find Adolf Eichmann, the infamous Nazi architect of the Holocaust, supposedly hidden in Argentina, and get him to Israel to be judged.
The 1 best video reviews about Operation Finale (2018)
We've put together 1 video reviews, opinions and reactions to the Operation Finale (2018) movie. You can watch and evaluate each of them. Caution, spoilers may be present in some reviews. If you are a video blogger and want to add or remove videos from this page, write to us.
Operation Finale - Movie Review