10 best shows like White Collar (2009)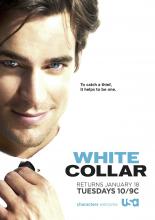 Neal Caffrey, a con man, forger and thief, is captured after a three-year game of cat and mouse with the FBI. With only months left serving a four-year sentence, he escapes to look for Kate, his girlfriend. Peter Burke, the FBI agent who initially captured Caffrey, finds and returns him to prison. This time, Caffrey proposes a deal with the FBI, as part of a work-release program. After some hesitation, Burke agrees, and thus begins this unconventional arrangement where Caffrey helps Burke apprehend white collar criminals.
List of the best shows and series like White Collar (2009): Sherlock, Lie to Me, The Mentalist, Bones, The Blacklist, Riverdale, Deception, Miss Sherlock, Remington Steele, In the Dark.