10 best movies like Southpaw (2015)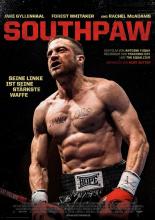 Billy "The Great" Hope, the reigning junior middleweight boxing champion, has an impressive career, a loving wife and daughter, and a lavish lifestyle. However, when tragedy strikes, Billy hits rock bottom, losing his family, his house and his manager. He soon finds an unlikely savior in Tick Willis, a former fighter who trains the city's toughest amateur boxers. With his future on the line, Hope fights to reclaim the trust of those he loves the most.
List of the best movies like Southpaw (2015): Warrior, Secretariat, Journeyman, 4 Minute Mile, The Hammer, Any Day, Bang the Drum Slowly, Stronger Than The World: The Story of José Aldo, Seabiscuit, The Champ.
Tags: movies similar to Southpaw (2015) - full list