10 best movies like Soul (2020)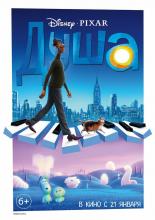 Joe Gardner is a middle school teacher with a love for jazz music. After a successful gig at the Half Note Club, he suddenly gets into an accident that separates his soul from his body and is transported to the You Seminar, a center in which souls develop and gain passions before being transported to a newborn child. Joe must enlist help from the other souls-in-training, like 22, a soul who has spent eons in the You Seminar, in order to get back to Earth.
List of the best movies like Soul (2020): Moana, Sing 2, Extinct, The Willoughbys, The Lion King, Spirit Untamed, Leafie, a Hen Into the Wild, Luca, Frozen II, Scoob!.
Tags: movies similar to Soul (2020) - full list