10 best movies like Non-Stop (2014)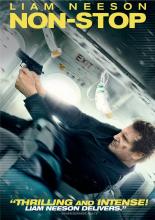 Bill Marks is a burned-out veteran of the Air Marshals service. He views the assignment not as a life-saving duty, but as a desk job in the sky. However, today's flight will be no routine trip. Shortly into the transatlantic journey from New York to London, he receives a series of mysterious text messages ordering him to have the government transfer $150 million into a secret account, or a passenger will die every 20 minutes.
---
List of the best movies like Non-Stop (2014): Drop Zone, Angel Has Fallen, Perfect Stranger, United 93, Whiteout, Bastille Day, The Commuter, Criminal, Hijacked, Below.
Tags: movies similar to Non-Stop (2014) - full list