4 best shows like Оттепель (2013)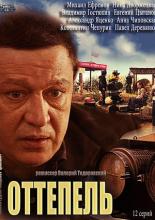 The series is set in 1961. Cameraman Viktor Khrustalyov is in a difficult situation; he is suspected of being involved in the death of his friend, talented screenwriter Kostya Parshin, who committed suicide during a drinking-bout. The authorities try to put Khrustalyov in prison by any means. Viktor needs to shoot the comedy "The Girl and the Brigadier" in order to get permission to make the film "Shards" after the wonderful scenario left from his deceased screenwriter friend. Young director Yegor Myachin wants to adаpt this screenplay. Khrustalyov arranges him as a trainee to the venerable director Krivitsky for a comedy. In the same film act Khrustalev's ex-wife Inga and his young sweetheart Maryana, with whom Yegor Myachin is also in love.
List of the best shows and series like Оттепель (2013): The Life and Adventures of Mishka Yaponchik (Once in Odessa), Операция «Мухаббат», Zuleikha Opens Her Eyes, Мамочки.
The Life and Adventures of Mishka Yaponchik (Once in Odessa) (2011)
Mishka Yaponchik was a Ukrainian gangster, Jewish, lived in Odessa at the beginning of the XX century, the military leader of two thousand of gangsters and the prototype of Benia Krik in The "Odessa Tales" by Soviet Jewish writer Isaak Babel. Born Moisei Vinnitsky, Yaponchik ("the Japanese") was an exceptional and eccentric character. Hailed as the next Robin Hood, he established his own code of conduct forbidding the robbing of the poor and professional classes.
Zuleikha Opens Her Eyes (2020)
The year is 1930. In a small Tartar village, a woman named Zuleikha watches as her husband is murdered by communists. Zuleikha herself is sent into exile, enduring a horrendous train journey to a remote spot on the Angara River in Siberia. Conditions in the camp are tough, and many of her group do not survive the first difficult winter. As she gradually settles into a routine, Zuleikha starts to get to know her companions. The eclectic group includes a rather dotty doctor, an artist who paints on the sly, and Ignatov, Zuleikha's husband's killer. A screen version of the best-selling novel by Guzel Yakhina.
Мамочки (2015)
We don't have an overview translated in English. Help us expand our database by adding one.