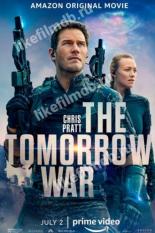 The Tomorrow War (movie, 2021)
The Tomorrow War
The world is stunned when a group of time travelers arrive from the year 2051 to deliver an urgent message: Thirty years in the future, mankind is losing a global war against a deadly alien species.
The 2 best video reviews about The Tomorrow War (2021)
We've put together 2 video reviews, opinions and reactions to the The Tomorrow War (2021) movie. You can watch and evaluate each of them. Caution, spoilers may be present in some reviews. If you are a video blogger and want to add or remove videos from this page, write to us.
The Tomorrow War Review
The Tomorrow War (2021) Movie Review