10 Best Animation movies like Tarzan (2013)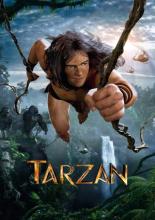 One of the most classic and revered stories of all time, Edgar Rice Burroughs' Tarzan returns to the big screen for a new generation. Tarzan and Jane face a mercenary army dispatched by the evil CEO of Greystoke Energies, a man who took over the company from Tarzan's parents, after they died in a plane crash in the African jungle.
---
List of the best animation movies like Tarzan (2013): The Lion King, Soul, The Wild, The Lego Movie 2: The Second Part, We're Back! A Dinosaur's Story, LEGO: The Adventures of Clutch Powers, Legends of Valhalla: Thor, Ribbit, Rio 2, Legend of the BoneKnapper Dragon.
Tags: movies similar to Tarzan (2013) - full list