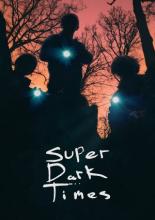 Super Dark Times (movie, 2017)
Super Dark Times
Teenagers Zach and Josh have been best friends their whole lives, but when a gruesome accident leads to a cover-up, the secret drives a wedge between them and propels them down a rabbit hole of escalating paranoia and violence.
The 1 best video reviews about Super Dark Times (2017)
We've put together 1 video reviews, opinions and reactions to the Super Dark Times (2017) movie. You can watch and evaluate each of them. Caution, spoilers may be present in some reviews. If you are a video blogger and want to add or remove videos from this page, write to us.
Super Dark Times (2017) Review DAY 12 | 31 DAYS OF HORROR 2019 | SPOOKYASTRONAUTS