10 best shows like Jane Eyre (2006)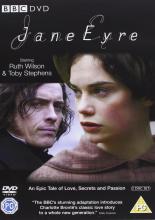 Jane Eyre is a 2006 television adaptation of Charlotte Brontë's 1847 novel of the same name. The story, which has been the subject of numerous television and film adaptations is based on the life of the eponymous orphan. This four-part BBC television drama serial adaptation was broadcast in the United Kingdom on BBC One. The mini-series garnered a critical acclaim and a number of prestigious nominations for its two stars and is considered to be the finest of all adaptations by a very large following of enthusiastic fans.
---
List of the best shows and series like Jane Eyre (2006): The Spanish Princess, Atlantic Crossing, Outlander, Spies of Warsaw, Vanity Fair, The Tudors, Dracula, Belgravia, Alex Rider, Rome.