10 best movies like Harry and Tonto (1974)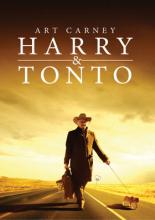 Harry is a retired teacher in his 70s living in the Upper West Side of New York City where his late wife and he raised his children--where he's lived all his life. When the building he lives in is torn down to make way for a parking garage, Harry and his beloved cat Tonto begin a journey across the United States, visiting his children, seeing a world he never seemed to have the time to see before, making new friends, and saying goodbye to old friends.
List of the best movies like Harry and Tonto (1974): The Lucky Ones, Boundaries, On the Road, Living Is Easy with Eyes Closed, $50K and a Call Girl: A Love Story, Hector and the Search for Happiness, Homer and Eddie, A Birder's Guide to Everything, Alice Doesn't Live Here Anymore, The Incredible Journey.
Tags: movies similar to Harry and Tonto (1974) - full list