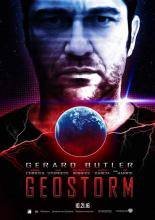 Geostorm (movie, 2017)
Geostorm
After an unprecedented series of natural disasters threatened the planet, the world's leaders came together to create an intricate network of satellites to control the global climate and keep everyone safe.
The 2 best video reviews about Geostorm (2017)
We've put together 2 video reviews, opinions and reactions to the Geostorm (2017) movie. You can watch and evaluate each of them. Caution, spoilers may be present in some reviews. If you are a video blogger and want to add or remove videos from this page, write to us.
Geostorm (2017) Movie Review
Geostorm (2017) Film Review (Gerard Butler)