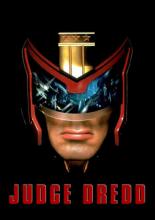 Judge Dredd (movie, 1995)
Judge Dredd
In a dystopian future, Dredd, the most famous judge (a cop with instant field judiciary powers) is convicted for a crime he did not commit while his murderous counterpart escapes.
The 1 best video reviews about Judge Dredd (1995)
We've put together 1 video reviews, opinions and reactions to the Judge Dredd (1995) movie. You can watch and evaluate each of them. Caution, spoilers may be present in some reviews. If you are a video blogger and want to add or remove videos from this page, write to us.
Judge Dredd (1995) Retrospective / Review