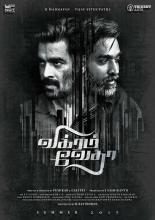 Vikram Vedha (movie, 2017)
Vikram Vedha
A notorious gangster Vedha surrenders himself to encounter specialist Vikram whom he challenges every step of the way by narrating his life events in the form of riddles that needs to be solved in order to capture him.
The 1 best video reviews about Vikram Vedha (2017)
We've put together 1 video reviews, opinions and reactions to the Vikram Vedha (2017) movie. You can watch and evaluate each of them. Caution, spoilers may be present in some reviews. If you are a video blogger and want to add or remove videos from this page, write to us.
Vikram Vedha (2017) - Movie Review