10 best movies like Vice (2015)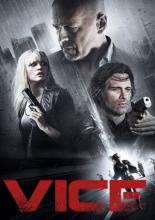 Julian Michaels has designed the ultimate resort: VICE, where anything goes and the customers can play out their wildest fantasies with artificial inhabitants who look, think and feel like humans. When an artificial becomes self-aware and escapes, she finds herself caught in the crossfire between Julian's mercenaries and a cop who is hell-bent on shutting down Vice, and stopping the violence once and for all.
---
List of the best movies like Vice (2015): Surrogates, Chappie, I, Robot, Ghost in the Shell, Venom: Let There Be Carnage, Virtuosity, Upgrade, Universal Soldiers, Johnny Mnemonic, Automata.
Tags: movies similar to Vice (2015) - full list