10 best movies like Thor (2011)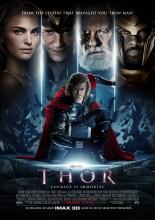 Against his father Odin's will, The Mighty Thor - a powerful but arrogant warrior god - recklessly reignites an ancient war. Thor is cast down to Earth and forced to live among humans as punishment. Once here, Thor learns what it takes to be a true hero when the most dangerous villain of his world sends the darkest forces of Asgard to invade Earth.
List of the best movies like Thor (2011): Warcraft, The Mummy, Beowulf & Grendel, Avengers: Endgame, Wrath of the Titans, Zhongkui: Snow Girl and the Dark Crystal, Vikingdom, Dragonball Evolution, Percy Jackson: Sea of Monsters, Gods of Egypt.
Tags: movies similar to Thor (2011) - full list