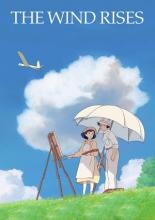 The Wind Rises (movie, 2013)
Kaze tachinu
A lifelong love of flight inspires Japanese aviation engineer Jiro Horikoshi, whose storied career includes the creation of the A-6M World War II fighter plane.
The 2 best video reviews about The Wind Rises (2013)
We've put together 2 video reviews, opinions and reactions to the The Wind Rises (2013) movie. You can watch and evaluate each of them. Caution, spoilers may be present in some reviews. If you are a video blogger and want to add or remove videos from this page, write to us.
The Wind Rises - Movie Review
The Wind Rises / Kaze tachinu (2013) - Movie Review | Hayao Miyazaki | Studio Ghibli