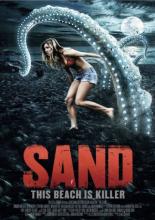 The Sand (movie, 2015)
The Sand
Just when you thought it was safe to go back in the water again, you can't even get across the sand! BLOOD BEACH meets SPRING BREAKERS in an ace monster mash-up of smart nostalgia and up-to-the-minute visual effects.
The 2 best video reviews about The Sand (2015)
We've put together 2 video reviews, opinions and reactions to the The Sand (2015) movie. You can watch and evaluate each of them. Caution, spoilers may be present in some reviews. If you are a video blogger and want to add or remove videos from this page, write to us.
THE SAND ( 2015 Brooke Butler ) aka KILLER BEACH B-Movie Review
The Sand (2015) - Movie Review