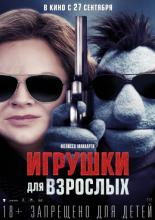 The Happytime Murders (movie, 2018)
The Happytime Murders
In a world where human beings and puppets live together, when the members of the cast of a children's television show aired during the 1990s begin to get murdered one by one, puppet Phil Philips, a former LAPD detective who fell in disgrace and turned into a private eye, takes on the case at the request of his old boss in order to assist detective Edwards, who was his partner in the past.
The 1 best video reviews about The Happytime Murders (2018)
We've put together 1 video reviews, opinions and reactions to the The Happytime Murders (2018) movie. You can watch and evaluate each of them. Caution, spoilers may be present in some reviews. If you are a video blogger and want to add or remove videos from this page, write to us.
The Happytime Murders - Movie Review