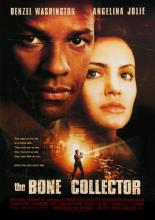 The Bone Collector (movie, 1999)
The Bone Collector
Rookie cop, Amelia Donaghy reluctantly teams with Lincoln Rhyme – formerly the department's top homicide detective but now paralyzed as a result of a spinal injury – to catch a grisly serial killer dubbed 'The Bone Collector'.
The 1 best video reviews about The Bone Collector (1999)
We've put together 1 video reviews, opinions and reactions to the The Bone Collector (1999) movie. You can watch and evaluate each of them. Caution, spoilers may be present in some reviews. If you are a video blogger and want to add or remove videos from this page, write to us.
THE BONE COLLECTOR ( 1999 Denzel Washington ) Serial Killer Thriller Movie Review