3 best movies like The Ascent (1977)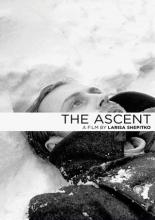 Two Soviet partisans leave their starving band to get supplies from a nearby farm. The Germans have reached the farm first, so the pair must go on a journey deep into occupied territory, a voyage that will also take them deep into their souls.
List of the best movies like The Ascent (1977): Ballad of a Soldier, The Forty-First, Moonsund.
Tags: movies similar to The Ascent (1977) - full list
Ballad of a Soldier (1959)
During World War II, earnest young Russian soldier Alyosha Skvortsov is rewarded with a short leave of absence for performing a heroic deed on the battlefield. Feeling homesick, he decides to visit his mother. Due to his kindhearted nature, however, Alyosha is repeatedly sidetracked by his efforts to help those he encounters, including a lovely girl named Shura. In his tour of a country devastated by war, he struggles to keep hope alive.
Moonsund (1987)
Captain of a Russian battleship "Novik" Artenyev is in love with a beautiful lady Klara who is a German spy. They cannot be together because of the war and their professions. But they are in such love that all the war battles and battleships do not stop them, only their duties do.