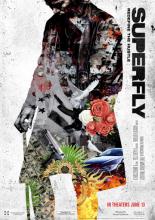 SuperFly (movie, 2018)
Superfly
Career criminal Youngblood Priest wants out of the Atlanta drug scene, but as he ramps up sales, one little slip up threatens to bring the whole operation down before he can make his exit.
The 1 best video reviews about SuperFly (2018)
We've put together 1 video reviews, opinions and reactions to the SuperFly (2018) movie. You can watch and evaluate each of them. Caution, spoilers may be present in some reviews. If you are a video blogger and want to add or remove videos from this page, write to us.
Superfly Review