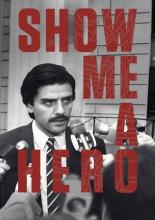 Show Me a Hero (tv-series, 2015)
Show Me a Hero
Mayor Nick Wasicsko took office in 1987 during Yonkers' worst crisis when federal courts ordered public housing to be built in the white, middle class side of town, dividing the city in a bitter battle fueled by fear, racism, murder and politics.
The 2 best video reviews about Show Me a Hero (2015)
We've put together 2 video reviews, opinions and reactions to the Show Me a Hero (2015) tv-series. You can watch and evaluate each of them. Caution, spoilers may be present in some reviews. If you are a video blogger and want to add or remove videos from this page, write to us.
Show Me A Hero (Parts 1 & 2) Review
Show Me a Hero - Review