10 best movies like Saw (2004)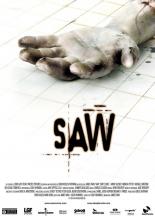 Obsessed with teaching his victims the value of life, a deranged, sadistic serial killer abducts the morally wayward. Once captured, they must face impossible choices in a horrific game of survival. The victims must fight to win their lives back, or die trying...
---
List of the best movies like Saw (2004): Nine Dead, Resurrection, The Believers, The Bone Collector, Slasher, Grindhouse, Smiley, Scream and Scream Again, Final Girl, 14 Cameras.
Tags: movies similar to Saw (2004) - full list