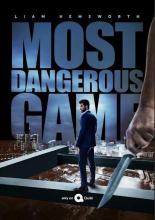 Most Dangerous Game (tv-series, 2020)
Desperate to take care of his pregnant wife before a terminal illness can take his life, Dodge Maynard accepts an offer to participate in a deadly game where he soon discovers that he's not the hunter… but the prey.
The 1 best video reviews about Most Dangerous Game (2020)
We've put together 1 video reviews, opinions and reactions to the Most Dangerous Game (2020) tv-series. You can watch and evaluate each of them. Caution, spoilers may be present in some reviews. If you are a video blogger and want to add or remove videos from this page, write to us.
Most Dangerous Game Quibi Original Series/Movie Review