3 best shows like Liquidation (2007)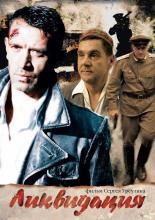 Liquidation is a highly popular Russian television series, which parallels the famous The Meeting Place Cannot Be Changed with notable ethical shift. In the "Meeting Place", chief of criminal investigations Gleb Zheglov had a modus operandi "Thief must go to prison, no matter how I put him there". In Liquidation, chief of criminal investigations David Gotsman's motto has changed to "Thief must go to prison, but lawfully so". The stars of the film include famous Russian actors such as Vladimir Mashkov and Konstantin Lavronenko. Sergei Makovetsky had to replace Andrey Krasko, who died of heart attack during the filming.
List of the best shows and series like Liquidation (2007): Morozov, Listyev. Novyy vzglyad, Патриот.
Morozov (2020)
Nikolay Morozov has been both a revolutionary and a terrorist in his long life. Sentenced to a lifetime of hard labour, he spent 30 years in a tsarist prison. His hair had long turned grey by the time the Second World War broke out, but when he realised his country needed him he volunteered for the army. Nikolay was 87 at the time.
Listyev. Novyy vzglyad (2020)
Investigation of the causes of death of Vladislav Listyev. 25 years passed, but the perpetrators of the highest-profile contract murder in Russia in the 1990s were not found. Or didn't you want to? Or found, but silent? Rodion decided to conduct his investigation. He wants to know the name of the customer. Six months of work, dozens of interviews with colleagues, friends and relatives of Listyev, investigators who conducted the case. And everyone answers the main question: who killed Vlad Listyev?
Патриот (2020)
Mark
imdb:

6.8

Genre
comedy
Country
Russia
We don't have an overview translated in English. Help us expand our database by adding one.