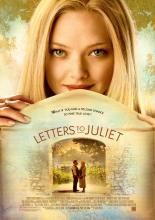 Letters to Juliet (movie, 2010)
Letters to Juliet
An American girl on vacation in Italy finds an unanswered "letter to Juliet" -- one of thousands of missives left at the fictional lover's Verona courtyard, which are typically answered by a the "secretaries of Juliet" -- and she goes on a quest to find the lovers referenced in the letter.
The 1 best video reviews about Letters to Juliet (2010)
We've put together 1 video reviews, opinions and reactions to the Letters to Juliet (2010) movie. You can watch and evaluate each of them. Caution, spoilers may be present in some reviews. If you are a video blogger and want to add or remove videos from this page, write to us.
Letters to Juliet Movie Review: Beyond The Trailer