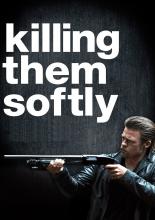 Killing Them Softly (movie, 2012)
Killing Them Softly
Jackie Cogan is an enforcer hired to restore order after three dumb guys rob a Mob protected card game, causing the local criminal economy to collapse.
The 2 best video reviews about Killing Them Softly (2012)
We've put together 2 video reviews, opinions and reactions to the Killing Them Softly (2012) movie. You can watch and evaluate each of them. Caution, spoilers may be present in some reviews. If you are a video blogger and want to add or remove videos from this page, write to us.
Killing Them Softly Movie Review: Beyond The Trailer
Killing Them Softly - Movie Review by Chris Stuckmann