10 best shows like Jane by Design (2012)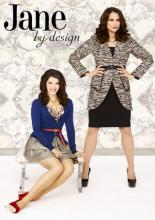 Jane by Design is an American comedy-drama television series on ABC Family. The series followed the life of Jane Quimby, a teenager who had to be mistaken for an adult to finally get her fashion dream job and work with a world-famous designer, Gray Chandler Murray. She has to juggle between two secret lives: one in high school, and one in high fashion. The network green-lighted the series in April 2011. The series premiered on January 3, 2012, following Switched at Birth. On February 29, 2012, the series was given an 8-episode back order. It premiered in the summer on June 5, 2012 and ended on July 31, 2012. On August 17, 2012, ABC Family announced that the show was canceled.
List of the best shows and series like Jane by Design (2012): Katy Keene, Little America, See Dad Run, Awkward., Dog with a Blog, grown-ish, Wendell & Vinnie, Girls, Dickinson, American Vandal.