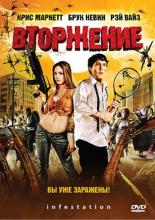 Infestation (movie, 2009)
Infestation
Our hero, Cooper, awakes to find himself nauseous, weak and covered in webbing, hanging from the ceiling of an office where, just minutes ago, he started his new job.
The 1 best video reviews about Infestation (2009)
We've put together 1 video reviews, opinions and reactions to the Infestation (2009) movie. You can watch and evaluate each of them. Caution, spoilers may be present in some reviews. If you are a video blogger and want to add or remove videos from this page, write to us.
Infestation (2009) Movie Review