10 best movies like I Can't Think Straight (2008)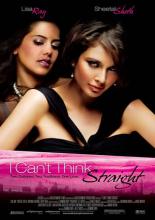 I Can't Think Straight is a 2007 romance movie about a London-based Jordanian of Palestinian descent, Tala, who is preparing for an elaborate wedding. A turn of events causes her to have an affair and subsequently fall in love with another woman, Leyla, a British Indian. The movie is distributed by Enlightenment Productions. It was released in different theatres between 2008 and 2009. The DVD was released on 4 May 2009. The movie is directed by Shamim Sarif and stars Lisa Ray and Sheetal Sheth. The two actresses star in another movie with lesbian characters, namely The World Unseen, released in 2008.
List of the best movies like I Can't Think Straight (2008): Floating Skyscrapers, Beautiful Thing, The Incredibly True Adventure of Two Girls in Love, My Summer of Love, Disobedience, Vita & Virginia, But I'm a Cheerleader, With Every Heartbeat, Romeos, Princess Cyd.
Tags: movies similar to I Can't Think Straight (2008) - full list