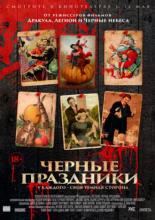 Holidays (movie, 2016)
Holidays
An anthology feature film that puts a uniquely dark and original spin on some of the most iconic and beloved holidays of all time by challenging our folklore, traditions and assumptions.
The 1 best video reviews about Holidays (2016)
We've put together 1 video reviews, opinions and reactions to the Holidays (2016) movie. You can watch and evaluate each of them. Caution, spoilers may be present in some reviews. If you are a video blogger and want to add or remove videos from this page, write to us.
Hitched for the Holidays (2012) movie review/RANT.