10 Best Animation movies like Hercules (1997)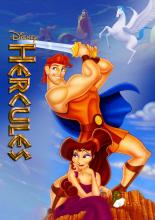 Bestowed with superhuman strength, a young mortal named Hercules sets out to prove himself a hero in the eyes of his father, the great god Zeus. Along with his friends Pegasus, a flying horse, and Phil, a personal trainer, Hercules is tricked by the hilarious, hotheaded villain Hades, who's plotting to take over Mount Olympus!
---
List of the best animation movies like Hercules (1997): Soul, Rise of the Guardians, Moana, Phineas and Ferb The Movie: Candace Against the Universe, The Book of Life, The One and Only Ivan, Epic, Scooby-Doo! Stage Fright, The Rescuers Down Under, How to Train Your Dragon: The Hidden World.
Tags: movies similar to Hercules (1997) - full list