10 best shows like Firefly (2002)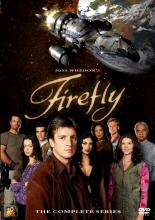 Firefly is set in the year 2517, after the arrival of humans in a new star system and follows the adventures of the renegade crew of Serenity, a "Firefly-class" spaceship. The ensemble cast portrays the nine characters who live on Serenity.
---
List of the best shows and series like Firefly (2002): The Expanse, Stargate Atlantis, Extinct, Andromeda, Falling Skies, The Mandalorian, Revolution, Halo: Nightfall, The Orville, Immortals.