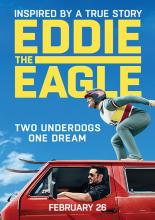 Eddie the Eagle (movie, 2016)
Eddie the Eagle
Inspired by true events, Eddie the Eagle is a feel-good story about Michael "Eddie" Edwards (Taron Egerton), an unlikely but courageous British ski-jumper who never stopped believing in himself - even as an entire nation was counting him out.
The 2 best video reviews about Eddie the Eagle (2016)
We've put together 2 video reviews, opinions and reactions to the Eddie the Eagle (2016) movie. You can watch and evaluate each of them. Caution, spoilers may be present in some reviews. If you are a video blogger and want to add or remove videos from this page, write to us.
EDDIE THE EAGLE - Movie Review (2016)
Eddie the Eagle - movie review