10 best shows like Eastwick (2009)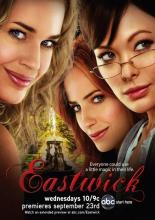 Eastwick is a 2009 television series based on John Updike's novel The Witches of Eastwick. The series was developed by Maggie Friedman, and starred Paul Gross as the infamous Darryl Van Horne, alongside Jaime Ray Newman, Lindsay Price, and Rebecca Romijn as the eponymous witches.
List of the best shows and series like Eastwick (2009): Carnival Row, Being Human, Good Witch, Reign, Stranger Things, The OA, I Am Not Okay with This, Bobcat Goldthwait's Misfits & Monsters, The Umbrella Academy, Chambers.