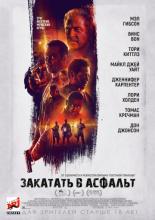 Dragged Across Concrete (movie, 2019)
Dragged Across Concrete
Two policemen, one an old-timer, the other his volatile younger partner, find themselves suspended when a video of their strong-arm tactics becomes the media's cause du jour.
The 1 best video reviews about Dragged Across Concrete (2019)
We've put together 1 video reviews, opinions and reactions to the Dragged Across Concrete (2019) movie. You can watch and evaluate each of them. Caution, spoilers may be present in some reviews. If you are a video blogger and want to add or remove videos from this page, write to us.
Dragged Across Concrete - Movie Review