7 best movies like Come Here, Mukhtar! (1964)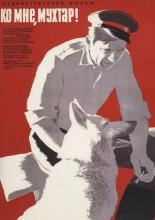 Mukhtar comes to live and work at the police kennels through rather unusual circumstances. Together with his handler, Glazychev, Mukhtar helps to solve large and small crimes.
List of the best movies like Come Here, Mukhtar! (1964): The Divide, Alexander Nevsky, The Duel, Virgin Soil Upturned, Ashik Kerib, The Hot Snow, Accused of Murder.
Tags: movies similar to Come Here, Mukhtar! (1964) - full list
The Divide (2011)
Survivors of a nuclear attack are grouped together for days in the basement of their apartment building, where fear and dwindling supplies wear away at their dynamic.
Alexander Nevsky (1938)
When German knights invade Russia, Prince Alexander Nevsky must rally his people to resist the formidable force. After the Teutonic soldiers take over an eastern Russian city, Alexander stages his stand at Novgorod, where a major battle is fought on the ice of frozen Lake Chudskoe. While Alexander leads his outnumbered troops, two of their number, Vasili and Gavrilo, begin a contest of bravery to win the hand of a local maiden.
The Duel (1973)
Mark
imdb:

7.7

Genre
drama
Country
Soviet Union
Duration
01:40
Dramatic story about two young men, two intellectuals of the 1890th. It is a story about a complex human character. Being tortured by ignorance and boredom of life, clerk Laevsky is longing to break the depraved circle of his existence. His moral antipode, naturalist Von Coren is sure that people like Laevsky are worth being destroyed. But regardless characters' will and desires, providence deals with their lives in its own way...
Virgin Soil Upturned (1959)
Mark
imdb:

7.6

Genre
drama
Country
Soviet Union
Duration
04:38
The movie is based on the the same name novel of the Nobel Prize In Literature Winner Mikhail Sholokhov. The action is taken place in 20-30-s years of the XX century in the Russian countryside going through an uneasy process of collectivization.
Ashik Kerib (1988)
Mark
imdb:

7.3

Genre
drama
Country
Soviet Union
Duration
01:13
Wandering minstrel Ashik Kerib falls in love with a rich merchant's daughter, but is spurned by her father and forced to roam the world for a thousand and one nights - but not before he's got the daughter to promise not to marry till his return. It's told in typical Paradjanov style, in a series of visually ravishing 'tableaux vivants' overlaid with Turkish and Azerbaijani folksongs.
The Hot Snow (1972)
Mark
imdb:

7.1

Genre
drama, military
Country
Soviet Union
Duration
01:45
In November, 1942, near the Volga, Stanlingrad is under siege of Commander Friederich Paulus and his 330,000 men. The Russian high command unleashes an operation to protect the Mishkova River to avoid that about four hundred tanks join Paulus' army. The Soviet artillery soldiers protect their position with their lives in a bloodshed with few survivors.
Accused of Murder (1969)
A group of drunken young people severely beat the couple in love. Subsequently, Aleksandr Shchetinin died in the hospital after receiving injuries from beatings. The court, chaired by Judge Khromova, is to pronounce the death sentence on one of the four participants in the fight, who committed the fatal blow that led to death.