10 best movies like Bitterly! (2013)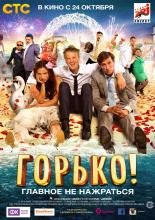 Progressive and talented Natasha and Roma dream of a European wedding by the sea... but Natasha's stepfather procured a different scenario. Rough official of the city administration considers the celebration as a springboard for their careers, and seeks to arrange all the «how to». Young awaits an unforgettable evening in the restaurant «Golden» with a complete set of the tedious rites. Not fight, the guys decide to spend their dream wedding in secret from conservative relatives. But by accident both celebration come together.
List of the best movies like Bitterly! (2013): The Wedding Ringer, From Ufa with Love, Hasta que la boda nos separe, The Best Day Ever, Success, Happiness! Health!, My Big Fat Greek Wedding 2, Zaitsev, burn! Showman history, Almost Christmas, Jenny's Wedding.
Tags: movies similar to Bitterly! (2013) - full list