10 best movies like Bird Box (2018)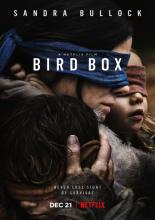 When a mysterious force decimates the world's population, only one thing is certain: if you see it, you take your life. Facing the unknown, Malorie finds love, hope and a new beginning only for it to unravel. Now she must flee with her two children down a treacherous river to the one place left that may offer sanctuary. But to survive, they'll have to undertake the perilous two-day journey blindfolded.
List of the best movies like Bird Box (2018): It Comes at Night, The Curse of La Llorona, 400 Days, Infini, Blair Witch, Time Lapse, The Huntress: Rune of the Dead, Us, Be Afraid, Ready or Not.
Tags: movies similar to Bird Box (2018) - full list