10 Best Animation movies like Alice in Wonderland (1951)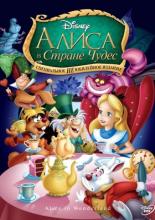 On a golden afternoon, young Alice follows a White Rabbit, who disappears down a nearby rabbit hole. Quickly following him, she tumbles into the burrow - and enters the merry, topsy-turvy world of Wonderland! Memorable songs and whimsical escapades highlight Alice's journey, which culminates in a madcap encounter with the Queen of Hearts - and her army of playing cards!
---
List of the best animation movies like Alice in Wonderland (1951): The Nightmare Before Christmas, Soul, Moana, Tinker Bell and the Legend of the NeverBeast, Epic, Pinocchio, The Princess and the Frog, Shrek Forever After, The Wonderful World of the Brothers Grimm, Legend of the Guardians: The Owls of Ga'Hoole.
Tags: movies similar to Alice in Wonderland (1951) - full list